Stealth Energy Mounting
The Stealth Energy PV Tile system can only be installed using the specific Stealth Energy Mounting system.
The Stealth Energy Mounting system is certified to MCS 012 standard.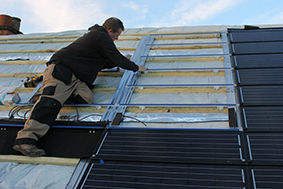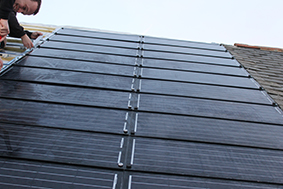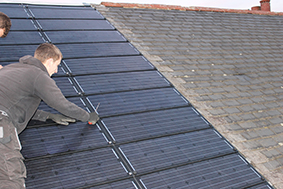 Designing a layout for Stealth Tiles
Stealth Energy PV Tiles are designed to be installed in columns. Therefore they can be stepped, but it is a full tile width step and not a half tile step.
When installed the Stealth PV tiles are designed to overlap 60mm over the tile below. Therefore the overall dimensions of the tiles is greater than the installed area.
When working out the installation area required, you should allow 1020mm x 360mm per installed tile with an allowance top, bottom and around the sides of the install area.
When installed the roof tiles will come flush to the sides of the PV Tile installation. Side flashings are installed underneath these joints. The side flashings will return 100mm under the Stealth tile and 100m under the roof tile or slate, and so allowance should be made for this on your design.
At the top and bottom of the Stealth tiles installations there are specific flashings which are used for the waterproofing. An allowance of 300mm (or 2 courses of roof tile) is advised to allow enough space for the flashing and the tile course to be instated.
Installation Process
The installation process requires the installation area to be battened to specific spacings. These Battens are then used to fix a frame and flashing onto the roof. Having installed the framework the Stealth energy Tiles are installed by overlapping the tiles and lining up the holes in the Stealth Tiles. A large flat headed screw then fixes the overlapped tiles to the frame below.
For the full installation process, please refer to the
Installation Manual
.

(Click to view)
Installation demonstration videos are available for additional support.
PV TILE SYSTEM ENQUIRY
Call us on
+44 (0) 8444 930088